A French Think Tank Dedicated to Virtual Reality
As sunny springtime skies engulfed the horizon, "Uni-VR # 7" took place at Vivendi headquarters in Paris, France, on the 17th of March, 2017. The morning started with a welcome breakfast followed by an introduction by Frederic Josue and Morgan Bouchet, President and Vice-President of Uni-VR.
The morning event was devoted to immersive experiences of fiction in the entertainment sector with Stephane Rituit, one of Felix & Paul Studios' three Co-Founders, a global pioneer in the creation and production of cinematic Virtual Reality experiences as the keynote speaker.
Felix & Paul Studios is a visionary studio that represents the highest caliber of immersive and engaging experiences and is best known for their cooperation with Cirque du Soleil, and has also made VR experiences about subjects including Bill Clinton, Lebron James and President Obama's celebration of the National Parks Centennial.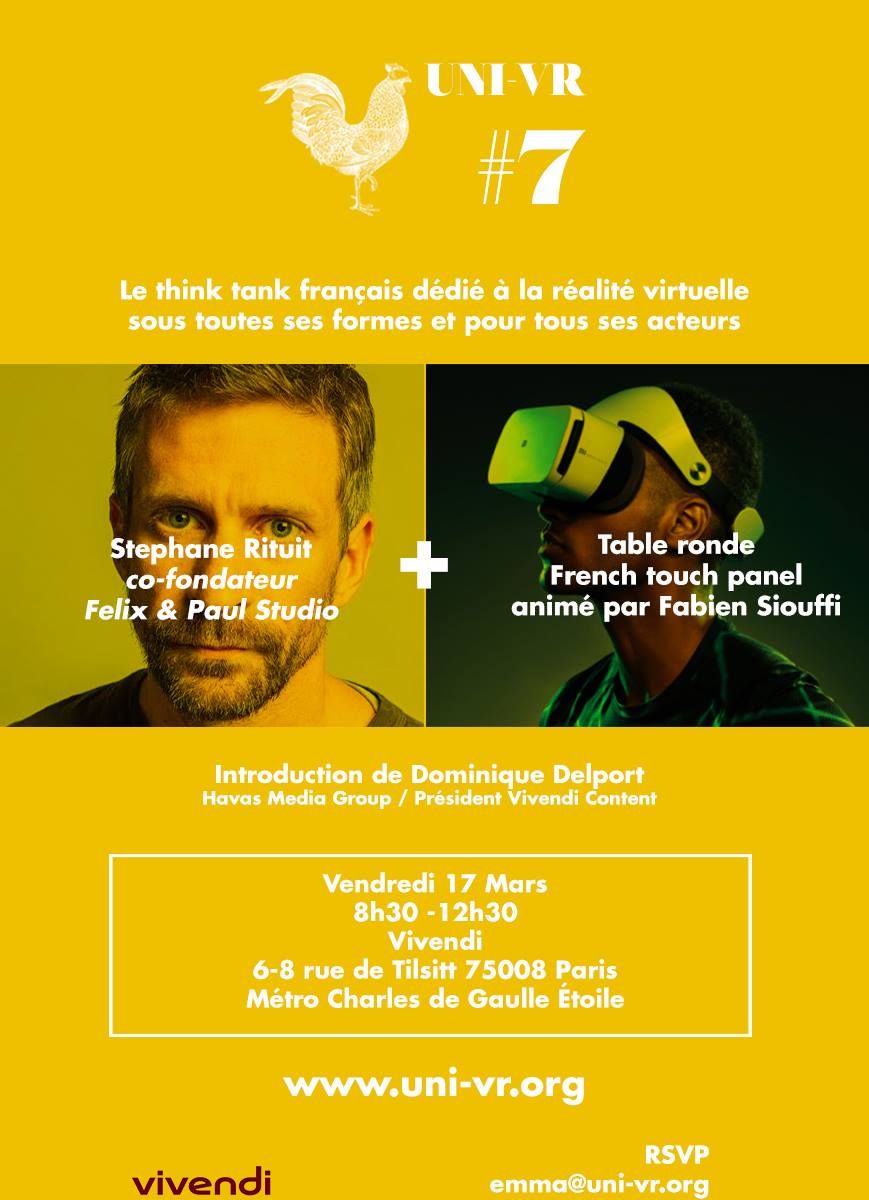 Rituit reviewed the different challenges that the studio had to face on each of their productions.  Most of Felix & Paul's productions are funded by Oculus, who clearly seek to make VR accessible to everyone through videos rather than gaming. Future projects will mainly be serialized which will bring users back by episodic content. In conclusion, Rituit stated that the studio was not intended to create its own platforms, but to focus on its core business, the creation of content.
The second part of the event was devoted to a round table moderated by Fabien Siouffi, Founder of Fabbula magazine, devoted to French authors-directors in Virtual Reality. Ferdinand Dervieux, Charles Ayats, Alexandre Perez, Balthazar Auxietre and Pierre Zandrowicz debated issues of narration in immersive experiences, the convergence of film and video games.
The standing room only event also invited several speakers to take the stage, which included World VR Forum's President and Co-Founder Clayton Doherty, who was invited to speak about the next WVRF Annual Summit in May. This was proceeded by Clayton thanking the French VR Community for their leadership and partnerships we have had with them during our first Annual Summit in 2016, including acknowledging audience member Michel Reilhac, who was the Forum's Chairman last May. Other speakers included: Michael Swierczynski for the Paris Virtual Film Festival; Eric Chastang & Benoit Baume for a presentation Of the BNP Paribas VR film with BeContent; and Josephine Derobe, pitching her project "Les Invisibles" in partnership with the CNC.
"Uni-VR # 7" was an informative event, which was followed with a round of successful networking and has led to several members of Uni-VR committing to participate at the WVRF17 in Crans-Montana in May.